Founded in 1931, the Chorus has appeared in hundreds of WELS churches around the country to proclaim the Word of God in song and to represent the ministry of the seminary.
Whenever they travel, the men of the Seminary Chorus are eager to talk about the work they do to prepare to serve as pastors. In many ways, their stories are the same: they attend the same classes and study the same subjects. But their stories are also very different. Whatever their backgrounds, they are anxious to meet the people who support them with prayers and gifts. They would be honored if you came to hear them sing the story of the one who loved us all, Jesus our Lord.
Membership in the chorus is open to all students, and the group rehearses three times each week. The choir presents an annual Christmas Concert, performed twice on the second Sunday in December to several thousand guests. A Graduation Concert is held the evening before the seminary's graduation service in May. The choir regularly participates in worship at nearby congregations during the school year and conducts a concert tour every year during the seminary's mid-semester break or over Easter vacation. The chorus has appeared in most of the United States as well as in Canada.
2023-2024 Schedule
Saturday, October 7 – WLS Friends of the Seminary Day, Mequon, WI
Sunday, October 29 – New Life, Kenosha/Sommers, WI
Sunday, December 3 – St. John, Mukwonago, WI
Wednesday, December 6 – Loving Shepherd, Milwaukee, WI
Sunday, December 10 – WLS Christmas Concert, Mequon, WI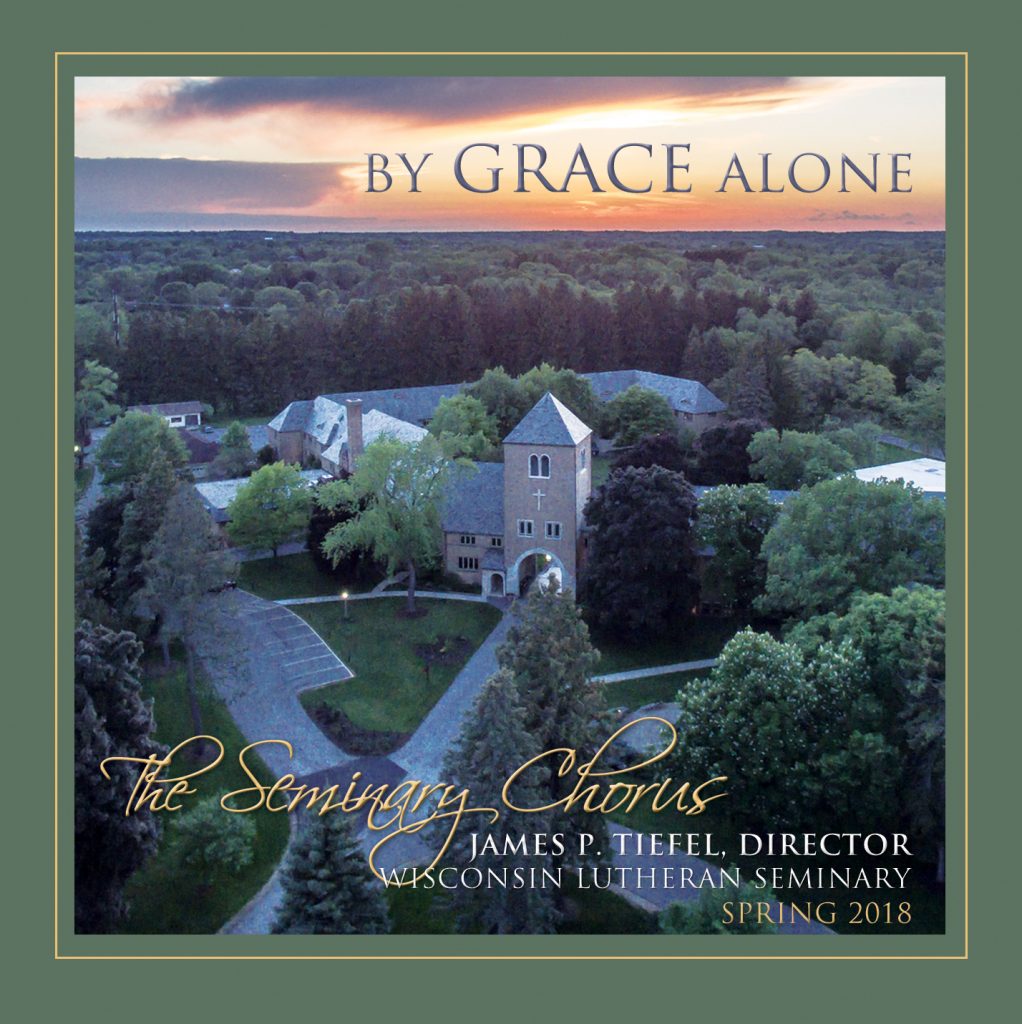 By Grace Alone
Spring 2018

Blessing, Glory, and Wisdom
If Ye Love Me
Salvation Belongeth to Our God
Commit Thy Way unto the Lord
Sing His Praises, Alleluia
By Grace I'm Saved
Betelehemu
Out of the Depths
When I Survey the Wondrous Cross
The Church's One Foundation
This Is the Day
This Is the Feast
Praise God on a Golden Trumpet
Didn't My Lord Deliver Daniel
Hark, the Voice of Jesus Crying
Crown Him with Many Crowns
Lord, When Your Glory I Shall See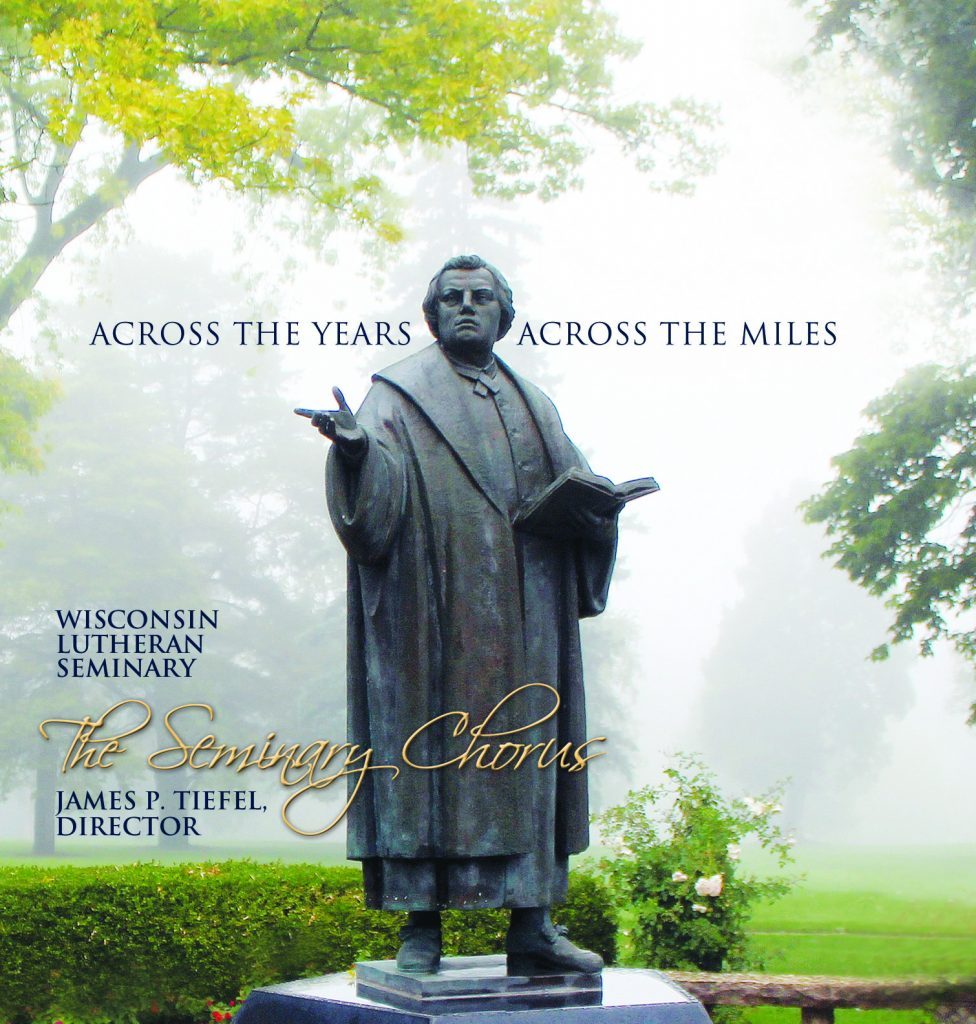 Across the Years, Across the Miles
1995-2016
The anthems on this CD are available on Spotify, iTunes, and Apple Music
1. To Thee, Jehovah, Will I Sing Praises J.S. BACH
2. Speak, O Lord GETTY/TOWNSEND
3. All That Hath Life and Breath RENÉ CLAUSEN
4. Cantate Domino HANS LEO HASSLER
5. Our Father ALEXANDER GRETCHANINOV
6. The Church's One Foundation LEHMANN
7. Begin the Song of Glory Now ALFRED FEDAK
8. Amazing Grace LELAND SATEREN
9. Rock of Ages Cleft for Me SCHMIEGE
10. This Joyful Eastertide S. D. WOLFF
11. Jesus, Priceless Treasure J.S. BACH
12. Free at Las' ALICE PARKER
13. Exsultate Justi in Domino BRANT ADAMS
14. Takwaba Uwabanga Yesu BEN ALLAWAY
15. Christus Paradox ALFRED FEDAK
16. I Will Praise You, O Lord KNUT NYSTEDT
17. Müde bin ich geh zur Ruh GERMAN FOLK SONG
18. A Hymn to God the Father JOHN NESS BECK
19. Lux Aurumque ERIC WHITACRE
20. This Little Light of Mine HOWARD HELVEY
21. Hark! I Hear the Harps Eternal CRAIG CARNAHAN
22. Christ Begins LUKE THOMPSON
23. Jesus Loves Me MICHAEL HASSELL
24. Holy God, We Praise Your Name JOHN FERGUSON
25. Lord, When Your Glory I Shall See KURT EGGERT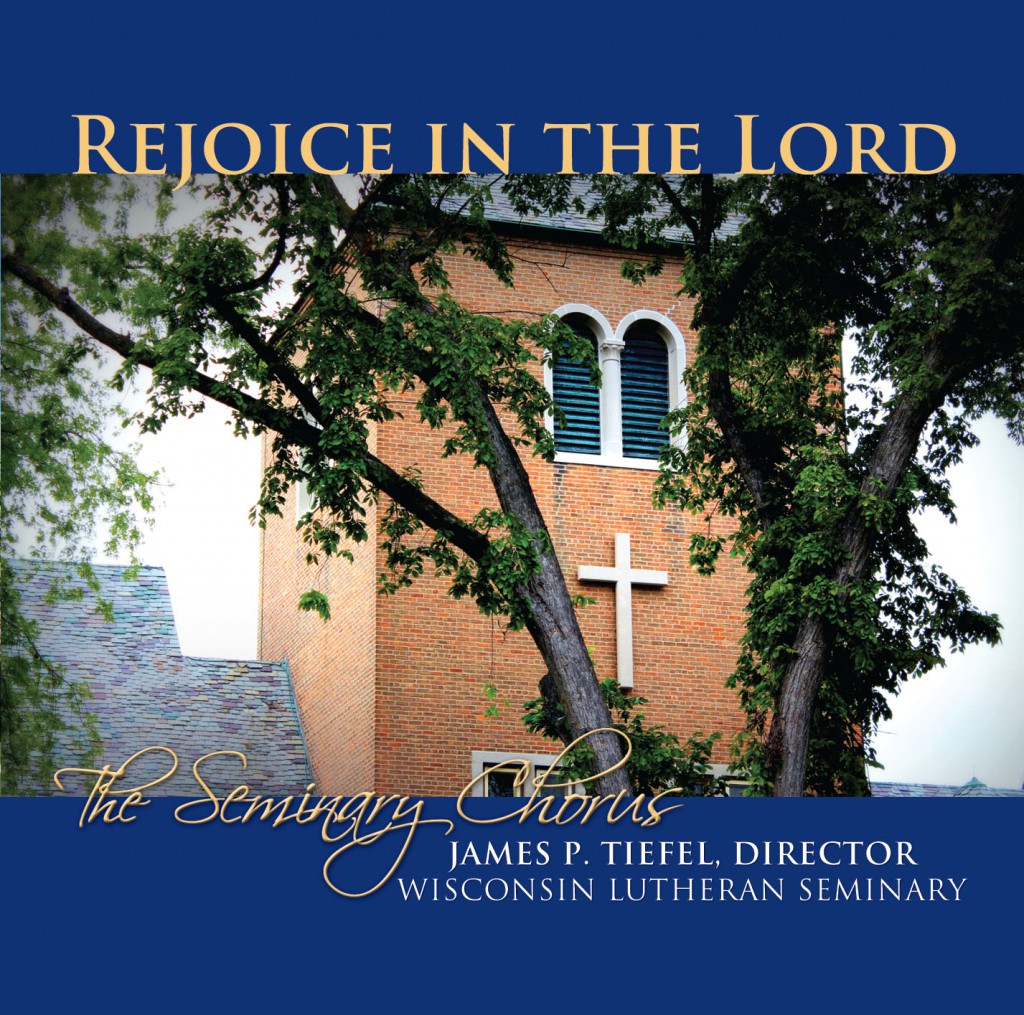 Rejoice in the Lord
2016 choir tour

Cantate Domino
Rejoice in the Lord
Alleluia
Nunc Dimittis
Lord, You I Love with All My Heart
Praeludium in e
All Praise to Thee, Eternal Lord
O Savior of Our Fallen Race
Christ Begins
And Can It Be?
Christ Lay in Death's Dark Prison
Lord, Send Out Your Spirit
The Church's One Foundation
Canson Duo Decimi Toni à 10
Rock of Ages
O Church Arise
Ride the Chariot
Rejoice, Rejoice, Believers
Lord, When Your Glory I Shall See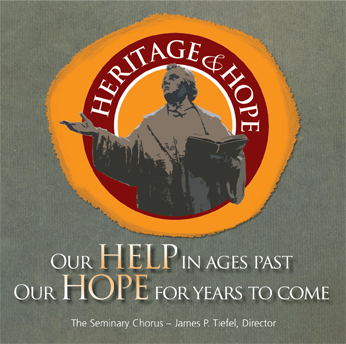 Our Help in Ages Past, Our Hope for Years to Come
2014 choir tour
God's Word is Our Great Heritage
Sing Praise to Our Glorious Lord
On God and Not on Human Trust
Ukrainian Alleluia
E'en so, Lord Jesus
Our God, Our Help in Ages Past
Advent
Mary, Did You Know?
God so Loved the World
Ride On, King Jesus
The Church's One Foundation
His Battle Ended There
Were You There/There is a Balm
One Faith, One Hope, One Lord
Jesus Loves Me
There is a Balm in Gilead
Go Forth and Preach the Gospel
Lord, When Your Glory I Shall See
All Praise to God
2012 choir tour
Cantate Domino … Hans Leo Hassler
O Christ Who Art the Light and Day … Ralph C. Schultz
Speak, O Lord … Mary McDonald
Oh, Sing Jubilee to the Lord … Brad Holmes
All Praise to God Who Reigns Above … Richard Hillert
Bringer of Light … Kathy Powell
Go and Tell John … Lloyd Pfautsch
They Follow Me … Martin Albrecht
Crucifixus . .. Claudio Monteverdi
This is the Day … Martin Barry
This Little Light of Mine … Howard Helvey
Hark! I Hear the Harps Eternal … Craig Carnahan
Jerusalem the Golden … Robert Hobby
Lord, When Your Glory I Shall See … Kurt Eggert
The Church's One Foundation … Arnold Lehmann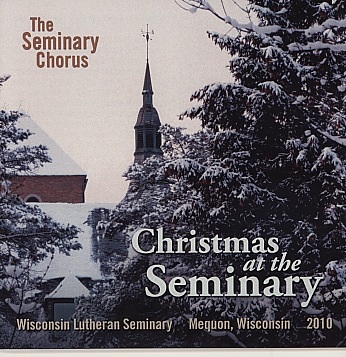 Christmas at the Seminary
Christmas Concerts 1994-2010
The anthems on this CD are available on Spotify, iTunes, and Apple Music
Advent Processional
O Lord, How Shall I Meet Thee
All Praise to Thee, Eternal God
Fanfare for Christmas
The Little Village Slept
Silent Night
Freut euch, ihr Christen
Lo, He Comes with Clouds Descending
Peace
Sing Alleluia
Mary, Did You Know?
Nunc Dimittis
Once He Came in Blessing
Arise, the Kingdom Is at Hand
Hodie Christus Natus Est
From Heaven Above to Earth I Come
We Three Kings of Orient Are
Go and Tell John
Hail to the Lord's Anointed
Betelehemu
Now Sing We, Now Rejoice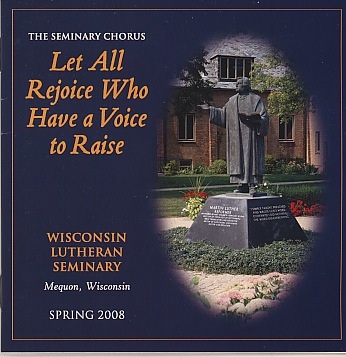 Let All Rejoice Who Have a Voice to Raise
2008 choir tour
Cantate Domino
From Depths of Woe I Cry to Thee
God Be in My Head
A Hymn to God the Father
Now Thank We All Our God
When In Our Music God Is Glorified
Matin Responsory
Hodie Christus Natus Est
Upon the Cross Extended
Peace I Leave With You
This Is the Day the Lord Has Made
The Church's One Foundation
Praise to the Lord
God Is Our Refuge and Strength
Great Is Thy Faithfulness
Takwaba Uwabanga Yesu
Lo, He Comes With Clouds Descending
Lord, When Your Glory I Shall See
Canzon Quinta